Hunterstruct Roofing…
We roof our own buildings, specialising in cedar shake and shingle installations. We also install asphalt shingle, and many types of low-slope roofing membranes. Our first wood roof is over twenty years old and it's working perfectly!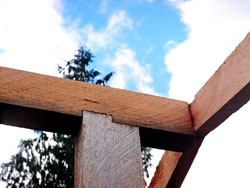 While it may be true that a building starts at its foundation, over the long haul, a sound building begins with its roof.
Hunterstruct experience in structural repairs is invaluable when it comes to roofs. Sound design includes an effective drainage plan, and good drainage prevents most structural damage. That's where top notch roofing comes in. It's the first line of defense against the forces that threaten buildings.
We apply our 20+ years of design/build/repair experience at all facets of design and construction because that's what is needed to keep buildings in top shape. Putting a sound drainage plan together with fine materials and workmanship is what we bring to roofing.
Good drainage starts at the top – the roof. From there, the otherwise pesky droplets are typically directed to ground via eaves troughs and downspouts, ideally ensuring water collected by the roof moves to ground without causing problems along the way.
One of the best roof finishes in all respects is the cedar shingle or shake. It's "green," long-lasting, and great looking.
For those who insist their buildings reflect "green" concerns, wood roofs – as well as other naturally occurring finish products – are an excellent way to balance the need for a sound, dry building with environmental stability.
Ideal for roofs, cedar shingles and shakes shed water as a roof should, but in addition, resist the forces of nature like rot-causing bacteria, freeze and thaw cycles, and to a great extent, damage caused by both ultra-violet and infrared sunrays.
Because well maintained wood roofs will look great and work well for years, they are a worthy design consideration when choosing a roofing material. But, of course, they are one of many options.
When a wood roof is unsuitable (and they certainly have their limitations), other methods of ensuring water clears the roof are needed.
Roofers that understand building science are invaluable in determining what the best roofing decisions are.
While not all roofs require the extensive know-how of full-service builders, every roof needs attention paid to ensuring that well-chosen materials are properly installed – ideally with an eye to increasing roof-life as much as possible. Of course, the best way to extend roof life is by sourcing the best materials, which in roofing membranes, means those that best resist environmental factors like heat and cold extremities, ultraviolet and infrared frequencies, organisms like mosses, and rain containing high acid quantity.
Contact Hunterstruct to discuss your roofing needs. Don't trust your buildings to just anybody, use a company that knows buildings inside and out, one that knows also that while a roof is the last part of a building, it's in first place when it comes to making buildings last.
Count On Hunterstruct For The Finest In Quality Work.
The Only Corners We Cut Are On Our Business Cards…