Thanks for visiting Hunterstruct's Feature Works section.
Here you'll find four standout projects we're pleased to have been involved in as designers and builders of homes, sundecks and additions.
The Laurabrook — A Fine Smaller Home…
Our first feature, The Laurabrook at right, is a small home of 2400 square feet on two levels. It offers a fine example of Hunterstruct's ongoing efforts to design and build small homes that feel big.
Built on an existing 24 x 48 foot concrete foundation, we put pencil to paper to create a home having three 12 x 16 square foot bedrooms, a similarly large office, a spacious lower-level recreation room, and a wall free or open-concept living, dining, kitchen area connected to a vast, central family den space.
And in keeping with Hunterstruct's One Call For All home and property improvement aim, we've undertaken full landscaping in addition to intallation of the numerous other amenities needed to turn this building and property into a comfortable, "love to be lived in" home and yard. Laurabrook Gallery
Take a "video walk" of The Laurabrook's Upper Level Common Area (2 Min), review some of the design thinking behind The Laurabrook, and for an in depth look at this special small home, visit our Homes section, and Hunterstruct's small homes feature website, Good For Homes, where you'll find many photos and videos documenting all stages of construction from grade to roof.
The Jewel — A Popular Look In Sundecks…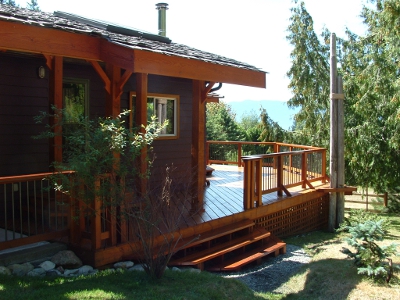 One of our most popular sundecks, The Jewel at left wraps over half of the original building on three sides using two levels.
This expansive deck greatly increases the home's recreational possibilities. Jewel Gallery
It features a covered BBQ area, a covered front entry, a slatted heartwood red cedar deck surface, and a composite wood and aluminum knee-braced rail.
We've made several alterations to the original building to create a consistent look and feel that links new and existing construction together, including complete cedar shake re-roofing of original and new roof frames. As well, we've installed skylights in all new roofed areas to help make these areas brighter on darker days. Take a moment to enjoy a brief "video walk" on this interesting deck,and review some of the design thinking behind The Jewel.
The Plateau — A Deck Fit For A Mountain…
The Plateau at right is one of the larger decks we've built. Set on a steep, rocky mountainside, this all wood sundeck is designed to create a 1200 square foot plateau of usable area, taking full advantage of the site's panoramic view of nearby lakes and mountains.
With the Hunterstruct pencil poised to begin some preliminary sketches, the clients issued The Plateau's first design directive: "Make it big or go home." Obviously, we didn't want to go home.
Built in BC's mountainous and beautiful back country, a main design challenge on some sites in this region is to find ways to increase the usability of leisure areas, and a big, flat surface certainly helps meet this challenge. Plateau Gallery
As winter is usually quick to come and slow to leave in BC's interior, a second important requirement is to make the deck comfortable to use year round and in less than perfect weather conditions. We've met this challenge by creating a post and beam covered area and by installing a sunken hot tub, both great ways to increase a deck's seasonal usability.
Review more thinking behind The Plateau and take a brief "video walk" on this practical, attractive sundeck.
The Oceanside — A Modest, Well Tailored Home Addition…
Almost every smaller home needs an addition.
The Oceanside at left is a building addition/sundeck combo that compliments the original home's interior while enhancing its adjacent deck area.
This project features an innovative Hunterstruct original design that dramatically increases the addition's interior headroom, helping to create that open, airy feeling crucial to well-planned modern interiors. Oceanside Gallery
Sound design skills will always improve a building's look and usability. The Oceanside is a good example of the design aim to blend new and earlier work–a crucial consideration in building additions. Achieving harmony begins with careful plotting when it comes to building in general, and time spent integrating elements of a project is always rewarded.
Read more on The Oceanside's plotting and planning, and contact Hunterstruct today to discuss design/build ideas for your home and property.

Hunterstruct's "One Call For All" design, build, renovation, repair service is available in BC's Lower Mainland, the BC Interior, and the Sunshine Coast of BC. We travel to build!