We Build Sundecks Year-Round In Coastal BC. Book Now For Your Summer Deck!
What Is It About Decks?
If you've already visited our "Featureworks" section, you've probably noted that Hunterstruct is a sundeck builder. What you may not know is that decks rank among our favourite building projects.
This might be part of the reason why we're a standout among deck contractors. The rest of the reason has a lot to do with what great sundecks are all about, and here's the thinking…
We've pondered – often on the very decks we build – what it is about sundecks that make them such a special feature of a home.  Sundeck Gallery
The Theory Of Leisure . . .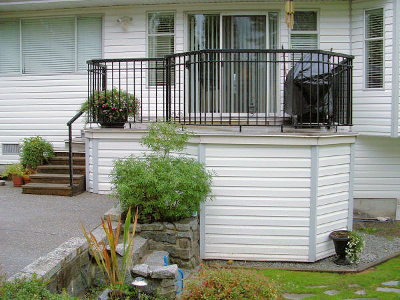 There are simpler answers: BBQ, relaxation, hot tubbing, sunning. But beneath these enjoyable activities is a deeper reason for a deck: leisure.
Although you may zip across it on the scoot to work, mostly your deck is about you and your friends and family having a good time.
And experts in the field agree that time spent on the home front is one of the best ways to make the most of leisure hours. Sundeck Gallery
With this thought in mind, amenities like a well designed, carefully crafted sundeck tailored to suit the needs of its users become much more than the materials used to make them. Instead, they become the kind of features of the home that make it what it should be: a place you don't want to leave, and can't wait to get back to. In short, great sundecks become much more than the sum of their parts.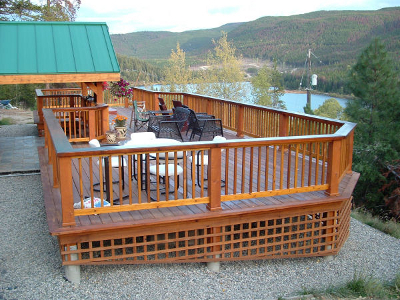 This is where we come in handy. Our interest and skill in designing and building standout sundecks makes us what you're looking for in a deck contractor – a standout.
Architect Arthur Erickson suggested that of his buildings, homes were the most challenging to design.
To this we would add, great decks present design challenges of their own, challenges best met by a decking contractor who not only offers passion and ability for deck building, but who also understands the thinking behind them: The Theory of Leisure.
And the theory can be tested…
The single quality that makes fabulous decks is the pleasure they offer, and when you're enjoying your custom designed and built Hunterstruct sundeck and find yourself thinking there's nowhere else you'd rather be, we've hit the mark!.
Take "The Quintessential Backyard Deck" at left. As the gallery photos show, the "QBD" is a good example of getting it right on the mark.
This deck is intended to link three of the home's accesses, conveniently connecting the garage to the home's interior in a hop and a skip, and including a proposed third and ultra-wide access onto the QBD's upper tier to link the deck to living and dining areas.
The QBD is not highly ornamental, taking its design cues from the uncomplicated lines of the home itself. The deck's seemingly simple lines are deceptive, however, disguising the design's aim to create a structure not dependent on the home for its stability. Much of this sundeck's self-supporting capability is due to the "balloon" framing technique used that allows its twelve support posts to simultaneously form the railing newels. Sundeck Gallery
On the whole, "The Quintessential…," despite its emphasis on the practical, probably best exemplifies a good balance between looks and function, and obviously most important, it's clearly ready for "sunnin' and funnin'" — deck construction's main goal. Sundeck Gallery
Plan It, Build It With Hunterstruct: Deck Designers, Deck Contractors
So take some time out for yourself and invest in your pleasure. Choose an experienced, proven deck designer, deck builder in one. Large or small, Hunterstruct looks forward to helping you get what you want out of your sundeck. That's a greatness guarantee! Sundeck Gallery
Make Hunterstruct your sundeck company. Call today! We make decks that do what decks do best.
Hunterstruct — We Make Decks That Do What Decks Do Best.
Hunterstruct's deck design and build service is available in Surrey, Langley, Delta, White Rock, Vancouver, the Sunshine Coast, and the interior of Southern BC. We travel to build!