A Jewel By The Sea…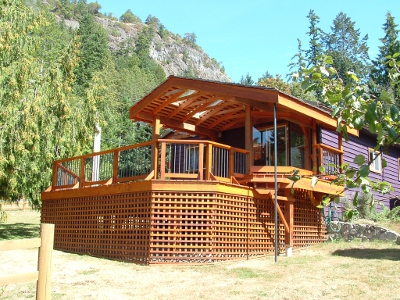 Designing and building sundecks is a Hunterstruct specialty, and "The Jewel" – our first of four "Feature Works" – documents the dramatic transformation of this home from utility fishing cabin to comfortable, fully equipped, year round residence.
The Jewel's setting presents numerous design opportunities, situated as it is on a rolling slope against backdrops of forest, ocean, towering cliffs and open sky.
One of our most popular decking styles, we're often asked to recreate its features. Of course, well designed custom decks take their cues from their surroundings, and to apply a cookie-cutter approach risks ignoring the unique design challenges each building site presents. Jewel Gallery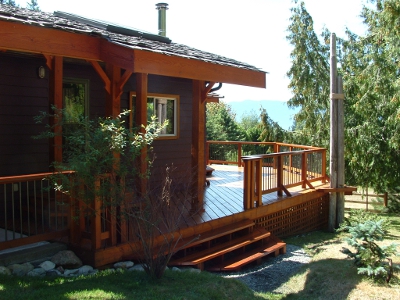 Part of the success of this all-season, wrap-around deck is the wrap-around itself, an opportunity to conveniently link the home's two entrances.
The resulting levels were developed into expansive, easy-to-use lounging and BBQ areas certain to be useful for most months in The Jewel's southern BC location.
We used heartwood red cedar on all exposed surfaces, coating these with a durable penetrating stain. The Jewel's infra-structure framing is entirely of densely grained spruce and Douglas fir.
Like most deck skirting, The Jewel's wrap-around skirt adds a finished look to the deck, keeping the stained wood look consistent as it does from grade to roof.   Jewel Gallery
Details Add Zip! Contact Us Today with Your good Ideas,
The Jewel's railing infill is made of powder-coated 3/4 inch aluminum pipe stock set into a pre-drilled under-rail at top and a stile at bottom drilled through for drainage. This durable finish will never need re-
painting, requiring only a quick wipe now and then to keep the gun-metal grey finish looking as good as new, even in The Jewel's salt air locale.
The Jewel's covered deck area features a hidden, through-roof exhaust fan for smoke-free BBQ on rainy days, helping to increase the number of days in a year this deck can be used. The rail top has been widened in this area for BBQ items.
In general, a covered area for decks is a good idea, and should be plotted early on in the design work to allow comfortable head room for users. The Jewel's underside peak height is about ten feet at the peak and just over six at the minimum. Take a brief "video walk" on The Jewel to see many of this deck's special features.
Right of centre in the photo above-left is a small gate allowing the mid-step to be used to access a "fire pole." Though fun to use and a quick, handy way to the backyard, the fire pole doubles as a roof support column in the event of an unusually heavy snow load. Jewel Details Gallery

We roofed existing and new roofs using Grade "A" cedar shakes throughout, effectively linking the original building with its new deck at roof level. Measures linking existing and new construction are always rewarding.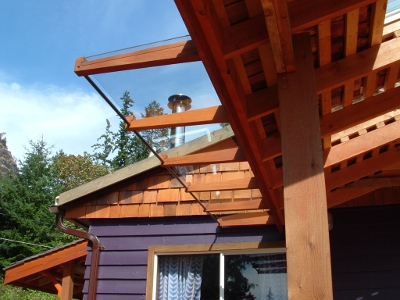 Areas of a deck such as access points, covered sections, and even in some cases certain structural features (including a fully functional fire-pole), offer opportunities for some special design TLC.
The Jewel is a good example of getting the most from a builder. Our well-rounded building contracting service was put to the test here several years past, beginning with major structural repairs – another Hunterstruct specialty. Jewel Gallery
These led to a number of other projects over time, the bottom line being that Hunterstruct customers know that whether we're designing and building a home, addition or deluxe custom sundeck, helping realise those dream renovations, making building repairs, or even installing a straight and true fence, we're a builder that applies our varied experience to every project whatever the task. That's Hunterstruct's pursuit of excellence — to make everything we do the best it can be.
Jewel Gallery | Jewel Details Gallery
Take a brief "video walk" on "The Jewel," and contact Hunterstruct today to get your special projects underway.
Hunterstruct's "One Call For All" design, build, renovation, repair service is available in BC's Lower Mainland, the BC Interior, and the Sunshine Coast of BC. We travel to build!