Some Hunterstruct Thoughts On Small Home Design . . .
Though a few hold outs remain, most home designers now recognise the importance of minimising building footprints for a variety of reasons, environmental and budgetary among them.
Certainly, designing smaller homes comes with its own set of challenges.  Faced by footprint limitations as well as the usual height restrictions, the common temptation of many designers is to try to do too much with too little, a scenario that all too often results in cramped, hard-to use spaces. Except in rare cases, every design project faces compromises. Most often, time spent plotting will achieve a reasonable compromise by finding a suitable balance between expectations and the factors impinging on them.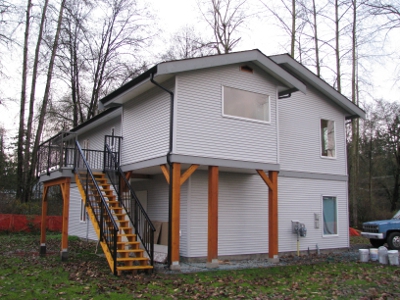 Avoiding the temptation to "try to do too much with too little," experienced small home designers resort to a variety of methods to meet design challenges. We'll touch on some of these ideas below, because their use often marks the difference between superb and second rate results. Laurabrook Gallery
It sounds oversimplified, but managing spatial limits is simple: design smarter
Designing smarter begins with recognising exactly which elements of home design increase a user's sense of space, and which detract from it. The first limit traditional designers have imposed on this sense of spaciousness is walls. Yes, sometimes they're crucial. For privacy and comfort, we need bathroom and bedroom divisions within a home space as much as we need exterior walls. But for most areas in homes, privacy is not a requirement, ease of use is. Laurabrook Gallery
In these spaces, the ideal solution is to eliminate as many interior walls as possible at the design stage.
Gone are the days when kitchens and their users were tucked away out of sight. Gone are the days when valuable floor space was eaten up by lengthy hallways. View a Laurabrook video …
Removing sightline-restricting walls is only the first step in a general move to increase sightlines in every direction possible. The next direction is up.
Every Hunterstruct home design features vaulted or coffered ceilings. Like open-concept floor plans, elevated, specialised ceilings provide users that all-important sensation of open space and freedom of movement. We use this same, sightline-increasing approach elsewhere in buildings, particularly at
ground level where ceiling heights do not need to be the traditional 7-8 foot finished height. An ideal ground-level ceiling will be a about nine feet. This allows at least a full eight feet beneath any ductwork installed for heating and other requirements.
In tandem with minimising partitions whenever possible, elevated ground-level ceilings are a good first step to transforming the traditional cramped, poorly lit basement into a desirable place to be.
Of course, these tactics are only a couple of ways to make small feel big, and there are many more, all designed to increase interest and usability in smaller homes, or as we like to think of it, make more of less through sensible design. Sensible design begins every great building result. Laurabrook Gallery
Take a video walk of The Laurabrook's upper-level common area (2 Min.), and for an in depth look at this build including videos, visit us at  Good For Homes, Hunterstruct's small homes feature site.
Hunterstruct's "One Call For All" design, build, renovation, repair service is available in BC's Lower Mainland, the BC Interior, and the Sunshine Coast of BC. We travel to build!