Top Notch Building Renovations & Repair Contractor For Hire!
Renovations and structural repairs to homes have a lot in common. Both get down to the nitty-gritty of how building elements are put together, and both present great opportunities to make buildings better.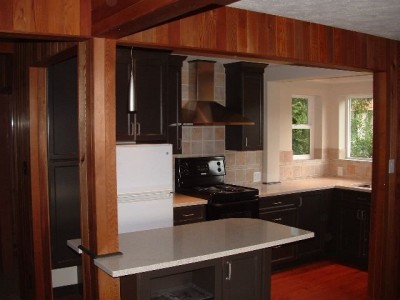 As the gallery photos of this kitchen reno reveal, we began by removing the partition walls that originally separated the kitchen visually and physically from the home's foyer and living area.
Working with the home's original red cedar wall finish, we high-graded the removed material, using this to help tie the kitchen's dramatic changes to the original, newly opened up living and dining areas. Renovations Gallery
Make It Happen With Hunterstruct, Your Renovation & Building Repair Contractor
This renovation required a modest addition, extending the building's footprint to add about 24 square feet of floor area to the kitchen space.
The addition allowed room to move the sink and counter area out of the originally limited kitchen space, while providing wall surface for windows. These dramatically improve the kitchen's "feel" by letting all-important natural light in.
Equally important, the feel or "atmosphere" is improved also by providing a pleasant "lookout" for users, most of whom would choose to view the great outdoors over a wall anyday. Sometimes subtle, sometimes bold, special touches transform spaces for the better, making the home everything it can be for users to create a "loved to be lived in" place that is difficult to leave, and a pleasure to return to. Getting great results like these is the job of your reno builder, and it starts with a skilled reno designer like Hunterstruct. Renovations Gallery
Speaking of making buildings better, there is almost always room for improvement.
Though mostly a restoration, this unusual deck at right was originally tremendously overbuilt, a quality that not only added unnecessarily to its original building cost, but also made it extremely dangerous, positioned as it is over a publicly used building access.
In addition to lightening the original design by almost fifty percent, we installed a "torch-on" roof membrane to ensure that the original rot-inducing conditions were not recreated. Building Repairs Gallery
Several of the photos in this gallery were taken 15 years after this restoration, showing this roofing solution working well to preserve the rebuild, while keeping the area underneath safe, high, and dry well into the future.
Contact Hunterstruct For Expert Remodeling, Renovation, Restoration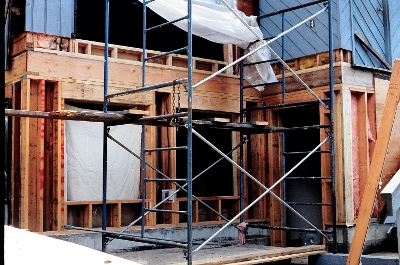 Without some creative planning, most structural repairs will leave clients with pretty much what they had prior, at least in terms of looks. Here is where the "improvement" approach to building repairs bears fruit.
Though reframed in the photo at left, the original under-deck area offered only one small window, and an uncomfortably narrow access door. Hmmm…here's an opportunity for some of that "creative planning."
As we intended to upgrade the original out-of-date window anyway, applying the "make it better" strategy, we ordered two new big windows.
Due to extensive insect damage, these walls required a complete rebuild as it happened. At the same time, we framed for a wider access door, improving the functionality of this important building element. As the gallery photos show, once the new deck was installed, the value of this improvement became evident as it allowed a lot more natural light into an otherwise much darker ground-level interior, while adding a bit to the home's overall look. Building Repairs Gallery
Hunterstruct's home additions & renovations design/build service is available in Surrey, Langley, White Rock, Burnaby, Delta, Vancouver, the Southern BC interior, and the Sunshine Coast. We offer expert-level structural renovation, remodeling & repair to wood-frame buildings affected by water, insect and fire damage. Call now! We travel to build.