We do all residential concrete work including standard building foundations, standard slabs, thickened-edge slabs, suspended slabs, curved and straight walkways, curved and straight retaining walls, tiled patios, complete stair works, and decorative work featuring exposed aggregate, stamped finishes, and custom colouring tints.
Count On Hunterstruct For The Finest In Quality Work.
The Only Corners We Cut Are On Our Business Cards…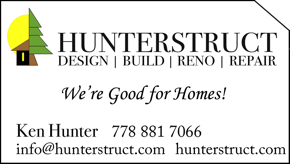 Hunterstruct's home & addition design/build service is available in Surrey, Langley, Delta, White Rock, Vancouver, the Sunshine Coast, and the interior of Southern BC. Call today! We travel to build.